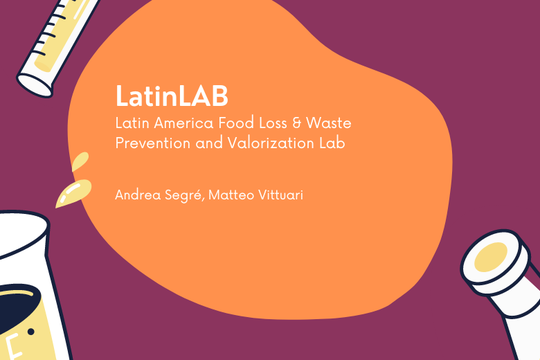 LatinLAB
#projectresearch | Latin America Food Loss & Waste Prevention and Valorization Lab
Published: 24 November 2022 | Innovazione e ricerca
Coordinator: Dipartimento di Scienze e Tecnologie Agro-alimentari
Research areas: Food loss and waste prevention and valorisation, Food system sustainability, natural resource use efficiency, optimisa-tion of food production inputs, environmental protection, economic development, circular economy
Scientific officer: Andrea Segré, Matteo Vittuari
Duration: April 2022 – July 2023
Research group:Researchers: Rosalba Lanciotti, Giorgio Gianquinto, Santina Romani, Silvia Tappi, Tullia Gal-lina Toschi, Enrico Valli, Lucia Vannini, Matteo Vittuari
Research fellows: Matilde Tura, Maria Alessia Schouten, Ana Cristina De Aguiar Saldanha Pinheiro
PhD candidates: Beatrice Cellini, Anna Niero, Elisa Appolloni, Margherita D'Alessandro
As outlined in the Sustainable Development Goal 12.3 stated by the United Nations, food losses and waste (FLW) have significant impacts on food quality and safety, natural resources, and environmental protection, affecting the sustaina-bility of food systems and economic development. For these reasons, FLW, co- and by-products management have attracted the attention of researchers and the food industry in recent decades.
The overall objective of the LatinLAB project is to establish permanent links between different types of stakeholders in various fields related to FLW, with particular attention to Latin American countries. Thanks to the use of an innovative teaching method and the promotion of joint research activities, the project could also be a useful tool for students and researchers.
To achieve this goal, a living laboratory will be developed, widely disseminated and established in all locations involved in the project. Within the laboratory, all related activities will be promoted and shared through an effective networking action.
Specifically, the laboratory aims to: a) promote exchanges between the participating research institutions and organi-zations; b) stimulate the development of innovative solutions and master's and doctoral theses on the prevention, re-duction, management and valorisation of FLW, and the optimisation of production resources; c) facilitate the technology transfer of knowledge, focusing on the valorisation of specific FLW; d) propose new scenarios of industrial symbioses to be reproduced; e) apply innovative teaching strategies through dynamic modalities such as collaborative delivery of solutions adopted through lectures, face-to-face and remote exercises, and the involvement of students in co-design challenges.