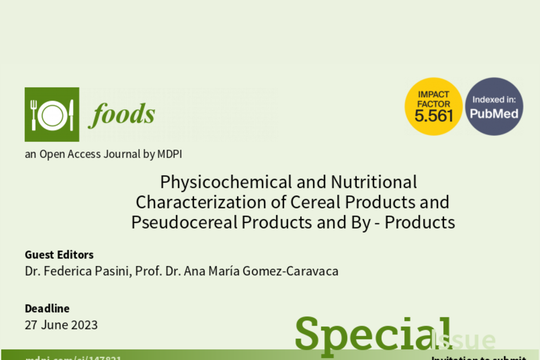 Special Issue "Physicochemical and Nutritional Characterization of Cereal Products and Pseudocereal Products and By-Products"
Guest Editor: Federica Pasini
Published: 20 December 2022 | Innovazione e ricerca
Special Issue Information
Cereal grains are currently a major component of human and animal diets worldwide. Cereal and cereal-based food products are significant contributors of protein, fat, energy, and micronutrients, and their composition therefore decisively affects human health. Moreover, several studies have shown that cereal grains are a source of bioactive compounds, including tocopherols, phenolic acids, dietary fiber, and phytosterols, which have been proven to contribute in reducing the risk of many chronic diseases.
Because of the demographic pressure and the changes in consumer demand toward healthier food, there is growing interest in the use of cereal products to supplement and substitute animal-based products. For these reasons, strategies and processing technologies aimed at modifying cereal constituents and improving functional attributes and stability are important in determining the effect of cereal-based foods on humans when consumed in their diet.
Against this background, this Special Issue of Foods will cover a selection of recent research topics and current review articles related to new information or structural modification in the cereal composition due to different processing and techniques, contents, and release of biologically active compounds in cereal products and their effects on human health in addition to the revalorization of high-value cereal byproducts.
Keywords
• cereals
• cereal byproducts
• chemical composition
• processing
• valorization
• nutrition
• bioactive compounds
• functional foods
• contaminants