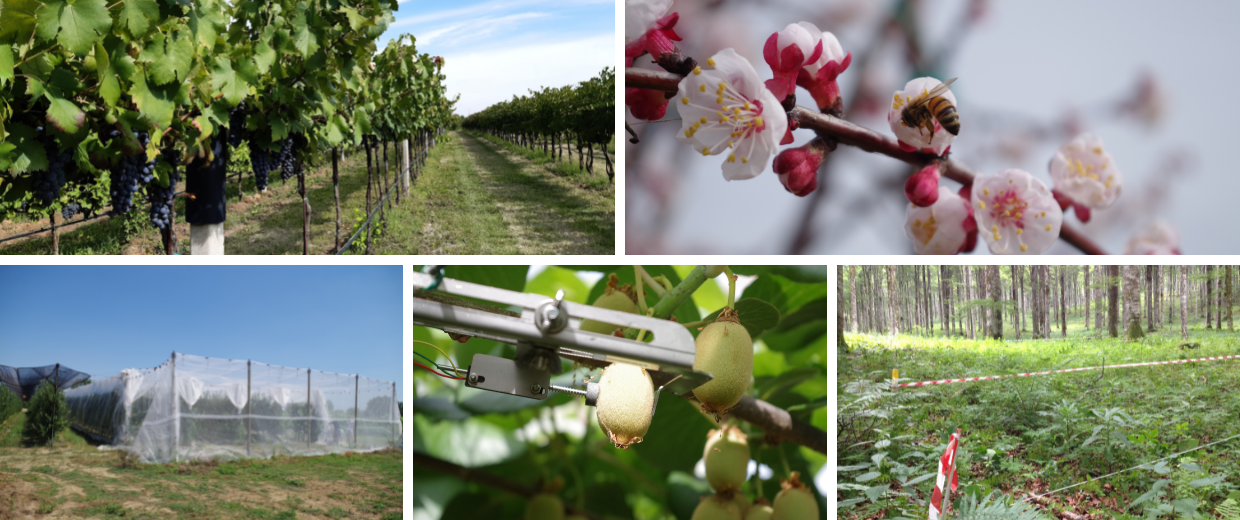 Fruit tree and woody plant sciences
Research in plant biotechnology & breeding, plant physiology, ecophysiology, ecology, pre- and post-harvest management applied to fruit species, grapevine and forestry. Sustainable production methods, including proximal/remote sensing, precision orchard management and organic farming.


Keywords: Agroecology, Breeding, Biotechnology, Ecophysiology, Efficiency, Fertilization, Forestry, Fruits, Management, Orchards, Post-harvest, Precision, Quality, Sustainability, Vineyards.


Main research fields


Breeding and biotechnology
Selection of new varieties and rootstocks in fruit and grape species.   
Genomic and transcriptomic approaches to study abiotic and biotic stresses, flower biology, fruit ripening and responses to management strategies.  Biodiversity studies, fingerprinting, propagation and genetic modification in fruit and grapevine.
Ecophysiology and management
Plant environment relations and resource use efficiency.
Water relations, leaf gas exchanges, chlorophyll fluorescence and fruit/berry growth.
Research on plant-microbe interactions.
Plant responses to abiotic and biotic stresses and innovative strategies to face them.
Pomology, pre- and post-harvest practices to optimize yield, quality and storability.
Nutrient cycling, organic and agro-ecological management approaches.
New monitoring technologies, precision orchard and vineyard management.
Age-related patterns in forest growth and function.
Modelling of forest growth, environmental and management effects.
Forest response to global change and remote sensing of forest processes.
Biogeochemistry of forest ecosystem; reclamation and revegetation of degraded sites.
People
keywords:
Ecophysiology of fruit crops, Precision Agriculture in Fruit Growing, Precision Orchard Management (POM)
keywords:
Precision Orchard Management, Leaf fluorescence, Photosynthesis, Orchard efficiency, Fruit growth physiology, Fruit
vascular flows, Ecophysiology
Read more
keywords:
Genetic maps, Fruit tree species, Molecular markers
keywords:
grapevine, cultivar characterization, clonal selection, canopy management, training system, vineyard soil management,
grapevine adaptation strategies to climate change, grape ripening
Read more
keywords:
tree ecophysiology, stable isotopes, dendrochronology, water-use efficiency, forest ecology, climate change, nitrogen
cycling, nitrogen deposition, phyllosphere, leaf gas exchanges
Read more
keywords:
ecology, sustainability, forest, drought stress, modelling, biogeochemical cycles, photosynthesis, carbon cycle,
silviculture
Read more
keywords:
Fruit Tree Physiology, Precision Orchard Management, Ecophysiology
keywords:
Irrigation, Source-sink relationship, Fruit growth, Fruit tree ecophysiology, Water relation, Fruit quality
keywords:
afforestation, woody biomass, revegetation, reclamation, Data analysis
keywords:
Agroecology, Territorial AgroEcological Lighthouses, Biodiversity, Natural resources, Peasant Knowledge, Health, Active
Citizenship, Friends of Bess, Soft skills, Systemic Thinking, Plant Stress Physiology, Landscape matrix, Volatile Organic Compounds (VOCs), Climate change, Carbon footprint, Soil and canopy management, Organic and biodynamic viticulture, Iron nutrition and chlorosis, Phytosiderophores, Olive, Woody crops
Read more
keywords:
fruit quality, volatile organic compounds, plant-microbe interactions, sustainable fruit production, Actinidia
(kiwifruit), Bioregulators in fruit production
Read more
keywords:
Fruit tree breeding, Fruit tree biotechnology, Molecular markers, Molecular maps, Genetically-modified organisms (GMO),
Scab resistance, Fruit quality, Apple allergens
Read more
keywords:
Abbe Fetel, Compost, Soil sikness disease, Calcium, Carbon partitioning, Priming effect, Pomegranate, root development,
Melia azedarach, Nitric N
Read more
keywords:
Deficit irrigation, Fruit growth, Water relations, Fruit quality, Source-sink relationships, Fruit tree ecophysiology