Summer School University of Bologna in collaboration with the Samarkand State University
SHARQ (SUMMER SCHOOL SAMARQAND) resulting from a collaboration of the Department of Agricultural and Food Science (DISTAL) and the Department of History and Culture (DISCI)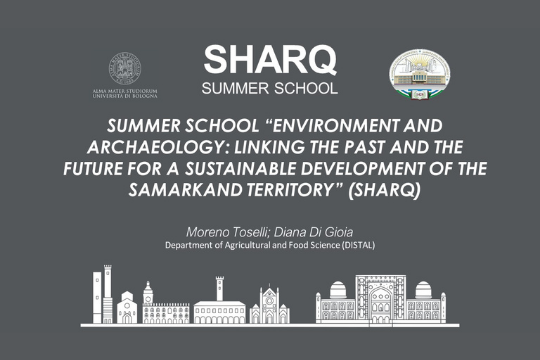 The aim of the school is to provide the student with knowledge of 2 important pillars: agriculture and archeology as means to promote the socio-economic development of a territory. In particular the role of biodiversity to build a sustainable and resilient environment, the importance of agro-ecology and agro-biotechnology in the development of a green agro-economy. The school will provide the key to understand and promote the potential of Uzbek archeology through the methods and theories in current archaeological research, such as bio-archaeology, landscape archaeology and the role of public archaeology.
The Summer School's program is open for bachelor (at the last year of their programme), Master students and PhD students. The number of the Italian student enrolled is 8: 4 with an agricultural background and 4 with an archeological one.  In addition, a group of students will be enrolled by Samarkand State University. The Italian students will be selected by competition, and among the benefits, the students will have an economic support to cover for the travel and lodging expenses related to the trip to Samarkand.
The Summer school includes 3 sections:
In the first one classes already recorded online will be shared remotely with the enrolled students.
In the second part a trip to Samarkand (indicatively in the period 30th May-3rd June 2022) will be organized (if travel restrictions permit) to visit archeological sites and agriculture farms .
Finally, part 3 includes the visit of a delegation from Samarkand State University to Bologna approximately on September 2022.
The call for participation will be published soon on the DISTAL and DISCI website.