MUR Department of Excellence 2023-2027
DISTAL identified as a Department of Excellence for the five-year periods 2018-2022 and 2023-2027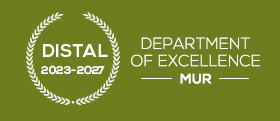 What is a Department of Excellence
Departments of Excellence are identified and financed by MUR every five years as the best 180 departments of State universities. These departments stand out for the quality of the research produced and the development project submitted.
Sustainable management of natural resources: excellence of the Department of Agricultural and Food Sciences in 2023-2027
The growing world population and its inescapable need for food, health and combating climate change are the challenges of the next decade, to which DISTAL intends to respond through ever-more targeted research, training and knowledge dissemination activities directed at the general public.
The 2018-2022 Excellence Project focused on the Agriculture-Food-Water-Energy Nexus to foster sustainable management of natural resources in order to improve the Department's scientific output while enhancing its impact on society. Indeed, one of the main objectives of the project for the new five-year period is to improve the quality of Distal's research, obtaining leadership level both nationally and internationally.
The strategy consists in using the results of the Nexus approach to study the resilience of agricultural, forestry, food and bio-economy systems  through the use of bio-technologies, innovative tools and instruments specifically optimised for the objectives of the Excellence Project.
The strengths that will make the objectives feasible and increase the socio-economic impact of the project results are the expansion of human resources,  infrastructure and training, and the dialogue with and participation of the people, organisations and companies involved in the agri-food sector.